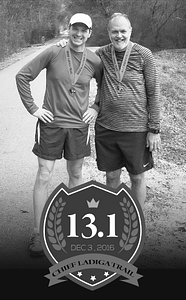 Greg Stone
I started running in January 2016. As I was syncing a Fitbit, I happened to come across the Confident Runner website. It is now December 2016 — and two 5ks, one 8k, two 10Ks, and two half marathons later! Kevin created a training program for each run. He has encouraged, pushed, enlightened, and helped make becoming a runner a reality for this novice. Running is now an enjoyable part of a my daily routine!
In December 2018, one month after helping me coordinate my first race as director—the AL.com Pelham City Center 5K—Greg died from complications of a pulmonary embolism. We were to run the Jacksonville Half Marathon the next day. He was a great friend and is sorely missed.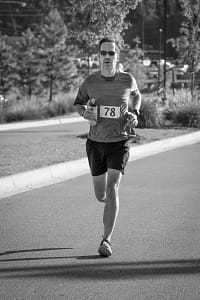 Jack Jacobs
I was looking to make the leap from half to full marathon and wanted solid advice and coaching.  I reached out to Kevin and it made a huge difference. We talked about my experience, recent training and goals. Kevin developed a comprehensive training plan and worked with me throughout my training, including time for my long weekend runs. He also helped me adapt my plan when I had to take time off for recovery. A truly wonderful and supportive coach.
Jennilyn Howell
Thinking about having a running coach used to make me need a nap. I'd get chills and break out into a cold, fearful sweat after thoughts of hulking drill sergeants, broken bones, never-ending runs, and ambulance interiors flashed through my mind. Maybe I'm being a little melodramatic, but I was never an athletic kid. I'm still not sure if I'm an athlete or not, and I just ran 13.1 miles the other day.
I've known Kevin for many years and my running journey started with him. Though I've always respected him and enjoyed his company, I sometimes found myself wondering if he was a bit of a kook. A marathon-running Ed.D.? Strange. Curiosity slowly simmered into passion, though. I would never have dreamed of running for fitness had it not been for Kevin. The way he gently nudged me into the sport is what really inspired me to get started last year. I knew there'd be no scolding over a lackluster run or the occasional—okay, frequent—need to walk. He told me outright that I was going to train to run six miles and that I'd be the best runner to ever cross the finish line. Yes, a marathoner got excited about a 10K!
I was frustrated when I allowed life to take over my well-being after that 10K last year. Fed up with lying around the house, feeling tired all the time, and being one-upped by my mother (who stayed consistent with her running training), I re-ignited the crazy runner chick within. I decided in late November to run a half marathon in early March. There was no one to turn to but Kevin. After I informed him of my goal, he quickly put together a training plan to fit my odd work hours. He did nothing but answer my silly questions, inspire me to lace up my shoes, and encourage me even when I was sidelined by a sinus infection for two weeks. And did I mention he did all this from 700 miles away?
When I crossed the finish line this past weekend, I almost cried because I felt I had accomplished so much! I had just run 13.1 miles without walking, and that's something I never dreamed I'd be able to do until I started working with Kevin. I'm a confident runner today because he believed in me when I couldn't believe in myself.
Brenda Dempsey
Being a fitness instructor, I was completely satisfied with my fitness level until Kevin challenged me to train and run a 10K race. With 8 weeks to train, he provided me with a training schedule and lots of encouragement. Each week, he checked to make sure I was on schedule offering encouragement and answering any questions. After finishing the 10K race and placing in my age group, Kevin encouraged me to continue to train and set my goals on a half marathon. He once again encouraged me all the way and chose a race that we could run together so he could celebrate with me at the finish line. At mile 12, I was sure I would not make it until I came around a corner and saw Kevin cheering me on. He ran with me encouraging me all the way and pushing step by step to the finish. Thanks little brother. I would never have been able to do it without you!
Alex Morrow
I first met Kevin while he was searching for a running coach. Kevin was already a strong runner but felt he had reached a plateau and was looking for a catalyst to reinvigorate his running. Before taking on a new client, I evaluate the runner just as much as they evaluate me. I believe a coach and the athlete should have mutually agreeable goals, beliefs, and philosophies, otherwise the relationship may not be beneficial to either party. What struck me about Kevin during our initial meeting was how much research he had done, the well-reasoned questions he asked, and our discussion on running principles. I left the meeting confident Kevin would be a great addition to my team. Since then, Kevin has grown into so much more.
Kevin is one of my athletes who always asks "why." When a workout is prescribed, he drills down into the reason behind the workout wanting to know what physiological systems are targeted. He constantly brings running articles and research to my attention which I may have missed. Kevin also manages to stay up to date on the latest running news and trends which are impacting our sport. I began to realize that Kevin was more than just a runner; he was a coach in training.
When the opportunity presented itself for Kevin to attend an RRCA Certified Coaching class, I encouraged him to do so. I knew Kevin would love the discussion, the theories, and the philosophies presented and these would be things he could apply to not only his training, but those of runners he would coach one day. Kevin of course passed his certification exam with flying colors and has become extremely knowledgeable about adult long distance runner coaching.
This past fall I had an opportunity to bring on an assistant coach to assist me in training the Fleet Feet Birmingham half marathon group and the first person I thought of was Kevin. Not only was Kevin reliable, knowledgeable, and trustworthy, he did a fantastic job of working with the runners, providing encouragement and direction, and the guidance necessary for the team to succeed.
It has been a pleasure watching Kevin grow into a runner/coach and I am proud to call him my friend. I wholeheartedly recommend Kevin to anyone looking for a run coach. You would be hard-pressed to find a more qualified person.